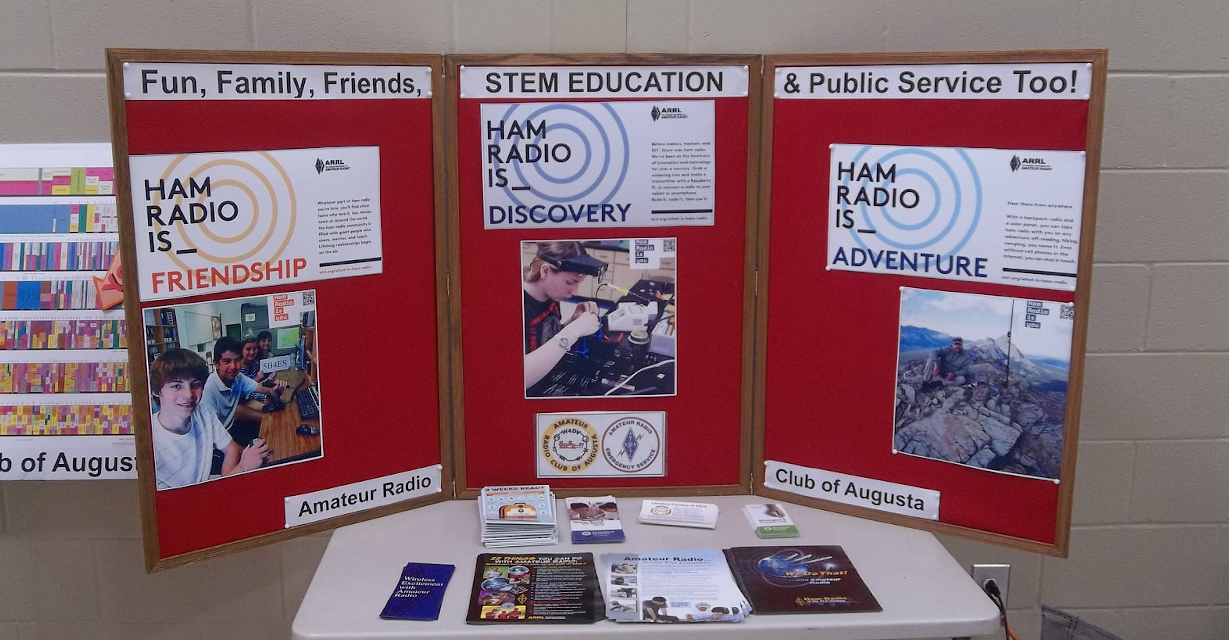 | | | |
| --- | --- | --- |
| | Amateur Radio Club of Augusta | |
The Amateur Radio Club of Augusta serves all amateur radio operators, and those interested in radio communication, in Augusta-Richmond County, and the CSRA, as a resource for education, information, and operating opportunities. We also volunteer our services as radio communicators to the community during public events, emergency situations, and instances of severe weather. The Amateur Radio Club of Augusta is recognized by the ARRL as a Special Service Club.
Each year, the club hosts a number of events which promote our hobby to the public and provide area amateur radio operators with opportunities to get on the air, acquire new skills, and learn new aspects of the hobby. We host the annual Augusta Hamfest, which is quite popular with regional amateurs. We also host an operating event for the annual ARRL Field Day, typically making several hundred contacts. The club also sponsors events each year to participate in several QSO parties, hosts two swap meets in addition to the hamfest, and has a regular meeting every month.
Our meetings are open to all members of the public, whether they are licensed operators or not. While we must conduct club business at each meeting, we also provide at least one presentation which may cover a variety of topics related to amateur radio, general electronics, computers, emergency services, or personal development.
The Amateur Radio Club of Augusta is organized as a nonprofit corporation in the State of Georgia (since 1957) and holds a 501(c)(3) public charity status with the United States IRS. Donations to the Amateur Radio Club of Augusta are tax-deductible and we are happy to provide documentation of your donation upon request.
Club News & Updates:
Meeting Update: May 2020

I sincerely apologize for not hosting the Meeting on the Air as expected this past Thursday.  It seems that I'm more occupied than I expected on Thursday evenings.  I will do another catch-up Meeting on the Air after the June Board Meeting.  I'll send another message with the intended date. Additionally, we need a presentation for the…

Equipment Donation: Yaesu FT-100

David Vine – WA1EAW, Defacto Director and Public Information Officer, has donated a Yaesu FT-100 This is great addition to our club assets and will be used during club operating events.  Please thank David for his generous donation.
The Professor's Archive:
Fox Hunting AKA Direction Finding or DFing Antennas

The ARCA held its first short range 2-meter fox hunt on the 23rd of July.  The great interest shown in conversations prior to the hunt, and also at the July club meeting, resulted in a poor attendance at the hunt.  For most people, it is simply a lack of DF equipment.  Here is a listing…

Radio Direction Finding

There's been talk lately about Club-sponsored "Fox Hunts," or transmitter-hunts (T-hunts). I have no idea how many Club members have had experience with Radio-Direction-Finding (RDF), but it is a valuable skill. Besides the fun of an actual contest, T-hunting skills are helpful for finding a signal that is, say, jamming a repeater, or perhaps power…